YourServerAdmin is now featured on Clutch.co and has received multiple 5-star ratings. Clutch is a Washington D.C. based research firm that covers thousands of business to business companies from over 500 different industries. Each company is evaluated on their client base, market presence, and industry experience. Clutch's platform allows firms to research similar services in depth and ultimately hire the best fit for their business. Each industry contains a lot of qualified competitors and we are excited to see what opportunities being on Clutch will bring. Visit our full clutch profile to see more client feedback and project detail.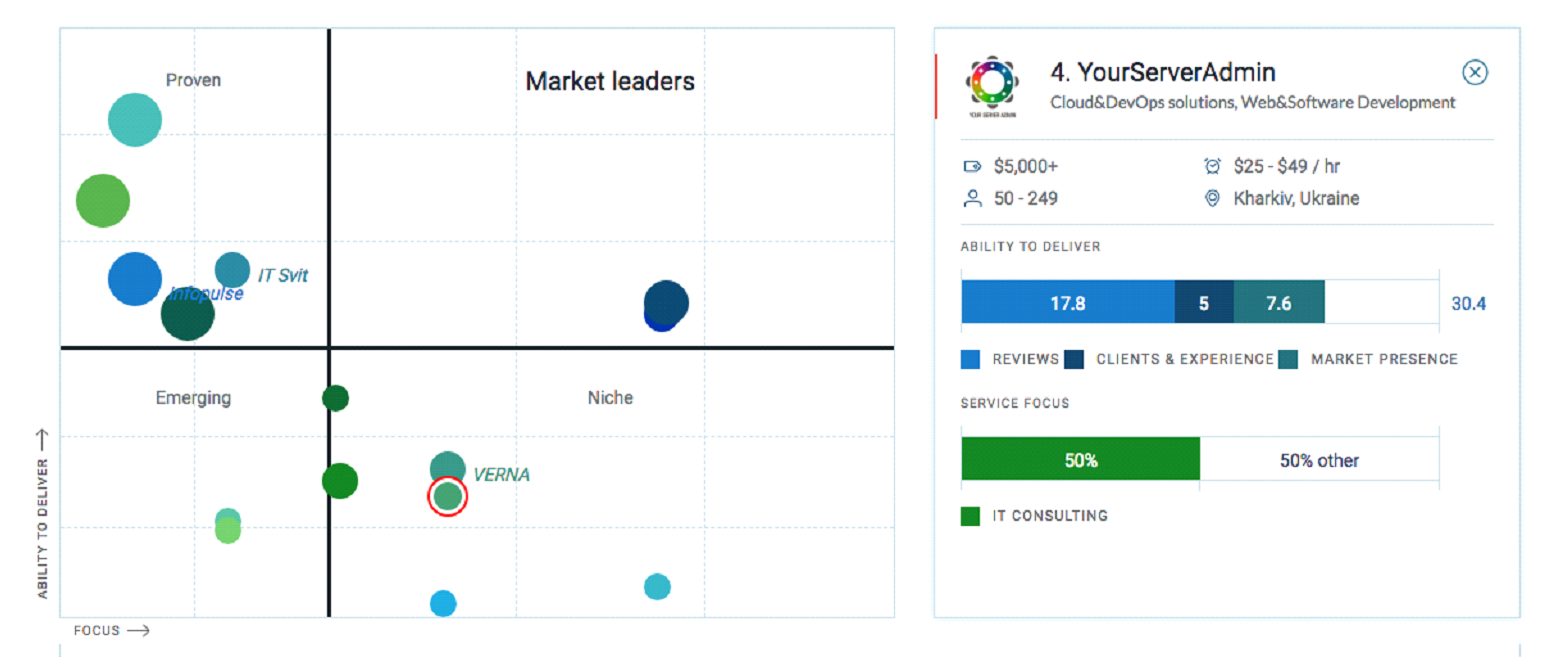 Ukraine IT Outsourcing Leaders Matrix
We are proud to announce that we have been included in a shortlist of top managed IT services providers. YourServerAdmin is also listed in The Manifest as one of the top IT outsourcing companies in Ukraine. The Manifest is Clutch's sister website that primarily focuses on business news and industry lists.
Our team has over 17 years of experience and we don't plan on stopping soon! We started from the 24/7 servers' management and support but now have grown into a big IT company also specializing in Cloud Infrastructure Management, which embraces all the stages of Cloud's life-cycle from the strategy and planning to the building of highly scalable and flexible Cloud Environment. We also are moving towards software&web development and offer our client a wide range of IT services including SEO and Copywriting.
One of our 5-star ratings on Clutch came from a software development company that we partnered with in 2016 and still managing today. The original task was to provide support for their infrastructure and improve efficiency of it, debug existing errors, and maintain visualizers. We took a responsibility of an existing visualizer system and backend portal. Our 24/7 team migrated the client's infrastructure to the news servers in order to ensure a stability of an entire system. We improved the efficiency of all websites and database structures and continued to manage the infrastructure in order to allow the client to focus on his main business only. To look through other reviews please follow the link: https://clutch.co/profile/yourserveradmin#reviews
Thanks to those who have reviewed us on Clutch's site and we look forward to hearing from more of our clients on our services! For any business inquiries please contact us here.
Related posts