Outsourcing is not only a massive trend nowadays but rather even a necessity.
A constantly growing amount of information technology companies or which tied up to software products increases competition among them, thus to stay afloat, business needs to reduce the cost and meanwhile rise up the quality of the service or a product.
Different types of companies, whether large or small, have been selecting to outsource their web development and web design, QA process, also, infrastructure and server management and support, DevOps solutions, rather than hiring in-house teams for their business.
In the various sources, there is a lot of information,  tips and tricks, and even instructions on how to choose a reliable outsourcing software development company. But what to rely on while considering a server management company? What are the main benefits of hiring a 24/7 support team?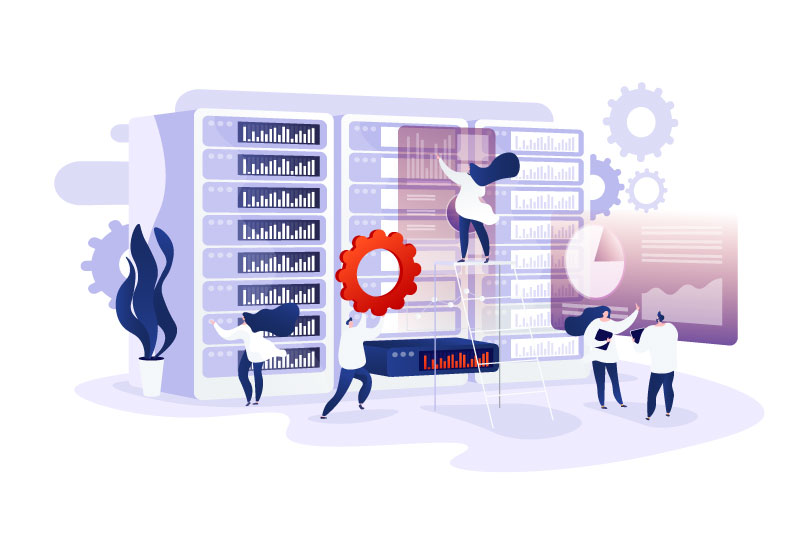 It's always better to prevent problems from happening than to deal with things after they went wrong. The server management company carries on with expected difficulties proactively to improve your server operation and mitigate risks. Also, it provides security for your system as the main goal. The server management team should know thought how important to protect your data, intellectual property, and time, from the hands of hackers, outside compromise, and viruses, it needs to be aware of many hosting providers and data centers all over the world and, respectively, be able to help you to choose the hardware exactly for your business and recommend you a reliable provider for your budget.
You may hire a server management company that provides an extensive package of services and by the end let you down. Either you may hire a managed service provider with exclusive offers and a special price, afterward, you could discover the extensive price is not worth its quality. How do you know which ones to trust?
Our team has prepared checkpoints that can help you to make the right decision while choosing the server management company:
01.
Proven experience
When you are searching for a reliable server management company you need to be aware of whether they are experts in the industry.
First and foremost, we recommend reviewing a website of the company, if it demonstrates the list of clients and their testimonials. Another important indicator is the blog - it gives an understanding of whether they show expertise through producing the relevant content. Take into account, how the sales department acts inasmuch as a sales manager is not only responsible for customer engagement but also helps to set the scene for the work. A sales department representative should have extensive knowledge of what services the company covers and need to establish transparent and stable communication between the client and the technical department.
02.
Years in the market
A new server administration business launches all the time, offering cheap support and top-notch quality. However, frequently these companies shut down in one year due to badly managed expenses, administration issues and unqualified employees, who won't care about server problems in time and take days to solve an urgent issue.
During the process of choosing the right server management company for your business, examine how long this business has been in the market.
The extent a firm has been in the industry, the upward they have invested in their own company's processes – and by this logic, they will lose more in case of poor service quality.
03.
References
An endorsement from the existing client is the greatest indicator of success work. Only the actually satisfied and the admiring customer will decide to spend time and give a reference to his supplier. Thus, when you consider a server management company, check if they have relevant feedback from their customers.
04.
Capabilities
The majority of the companies offer 24/7 server management services using rich words describing what they actually deliver, however, if you look at the essence you will see that not everything will be covered to make a safe work of your online business.
This should include 24/7 services monitoring, backup strategy implementation, server setup and configuration, server performance optimization, server securing and hardening, backups, disaster recovery, server migration and data transfers.
05.
Company location
Companies usually have a doubt regarding the 3rd party server support company's engagement since they aren't aware of how to make providers responsible and reliable as server administration means dealing with company sensitive data.
That's why it's significant to have a legally tied agreement with a supplier that has an actual office.
06.
Wide-range of service
In the ideal world, the server management company should provide both DevOps solutions and 24/7 server management services. DevOps engineers work closely with the client's representatives such as CTO or Project Manager throughout the collaboration and are the liaison between them and the SysOps and development teams that are responsible for the servers themselves and writing the code.
Thus, when you are searching for a server management company examine what they are offering beside the server administration. When your provider offers you a wide range of services and can take responsibility for the majority product's processes it increases the success of the project. Since communication is more efficient and teamwork is more coordinated inasmuch as the department works closely with each other. Among other things, the speed of problem-solving is also increasing and has a beneficial effect on the product.
Conclusion
Choosing the perfect server management provider for your business can be a hard challenge. In this article, we've stated where you can go wrong in choosing a provider, and what to spot to avoid the spread pitfalls. If there is anything left we did not mention and you have any further questions, please tell – we would gladly have a talk with you!
Related posts