If you want to hire a remote development team to run a new custom web application development or just to refresh an existing application, UI and UX design become a key to success.
First impressions are most lasting. Custom website design is not just colors and prints, it is a selling point of your product. Appealing website design look is one of the reasons why your project will succeed. It is what customers see first and which will make them stay on your page or close it and switch to your competitors.
The competition on the market is huge, the Internet is oversaturated with websites, so it is essential to attract customers specifically to your product. In the past years, designers tried to surprise Internet users with creative and unusual design solutions, but today when customers have already seen the creativeness in different forms, it is also important to make the accent on a user-friendly interface. Graphic artists strive to implement best practices in their work and make their designs not only unique and creatively different, but also simple and intuitive.
UI/UX design is a cornerstone for every custom software development product. First of all because it is client-oriented. While the art of painting remains in galleries, web design combines graphic skills and software knowledge. Design can identify and solve users' problems while examining alternate solutions to them, choosing and executing the best practices. 
So let's take a look at which UX principles establish a successful UI design.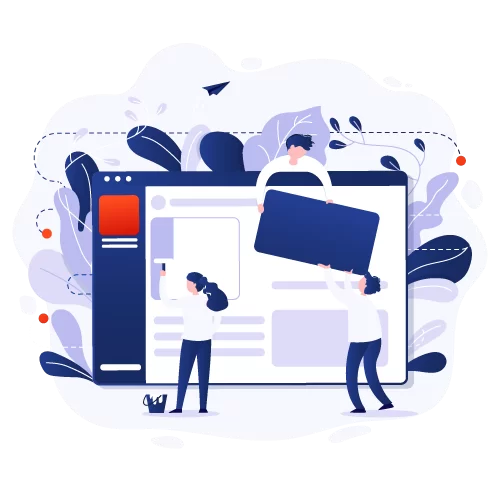 01.
Simplicity in design
Though half of the users nowadays use the Internet for entertainment only, we need to remember that still another half use it for practical purposes. We buy furniture and clothes, sign up for educational courses, conduct our business, promote marketing, etc. While looking for the information needed we want to surf through it quickly and easily. Heavy-loading rainbow-colored pages with curved banners will only make a user repulsive and they will forget to accomplish what they're trying to accomplish.
Minimalism is the quintessence of great design. Adding unnecessary design elements which are of no functional purpose will only confuse visitors.
02.
Intuitive site navigation
The users' main purpose on your website is to find what they are looking for. As a designer, you should help them to reach their request. Do not forget that backgrounds, color schemes, typefaces, and the tone of your writing should be consistent in order to have a positive impact on usability and website navigation.
OUR SOLUTIONS
Here are more tips for intuitive navigation:
Primary website page navigation should be simple and easy-to-find;
Include navigation in the footer of your site;
Breadcrumbs will help users to track their navigation trail;
Do not forget to place a search box on the top of your site;
Do not make your navigation many-leveled (3 levels are enough);
Keep the labels and location of your navigation the same on each page of your site.
One more thing, while keeping up to conventionality such as using website design elements and strategies with which visitors are already familiar, it will provide the best navigation possible. 
03.
Responsive website
Responsive custom website design suggests design and development be executed in a certain manner to adjust user's environment based on screen size, platform, and orientation. The content on the pages becomes flexible and fluid across all screen resolutions and various devices. That means that the view of the website on any device provides optimal listing experience including similar navigation, minimal resizing and familiar style. With the responsive web design you obtain more chances that the user will return to your site again.
Оbviously, you also benefit from a responsive website as you do not need to create a separate mobile version. In such a way, SEO campaigns are much easier to maintain by promoting a single universal version of your resource. It will save your time, budget and user's predisposition and also gives more advantages for statistics.
04.
Contextuality and User-Centricity
Stick to the topic. As a writer does not describe a Vietnam War in a children's book, you should not confuse styles in design. If you are engaged in the project for the magazine, it would be rational not to oversaturate the website design with banners and images, make your design highlight the magazine's articles.
Design must be in partnership with users, it has to correspond to their interest and needs. That's delivering the right kind of interface or data, when the user needs it. That's delivering something without forcing the user to ask. Once users like your work, you have high chances to promote your product.
Another thing here is not to be too stereotypic. Stereotypes will put you away among your competitors. The best approach will be to find a balance between creativity and context. You should take care about both uniqueness and usefulness.
UI and UX go all along in today's designs practices. The most important here is that these are your customers who gave a push for such design and still allow them to be the main point of your profession. Take care of aforementioned tips and do your work with all your heart and I am sure you will succeed.
Related posts